Why FosterCat?
Foster Cat, Inc. is all about saving lives. It's as simple as that. We are an all-volunteer non-profit organization dedicated to the proposition that all cats and kittens deserve safe, loving, permanent homes.


Our foster parents provide temporary care for cats and kittens in their homes until they can be placed for adoption. Their compassion provides the second chance that so many stray, abandoned or homeless kitties need, and the satisfaction of knowing that they have helped save the lives of these helpless animals.


FosterCat provides training and support, medications, food and litter as needed, and absorbs all veterinary expenses associated with the care of our kitties. If you love kitties and would like to be a part of our lifesaving team, consider opening your heart and home to cats or kittens in need. We promise you won't regret it! If you can't foster, you can still help save lives as a volunteer or supporting member. Click on "How You Can Help", above, for more information.
---
To Be, or Not to Be... Rescued
We receive regular requests for information and help from folks who contact us through our website. All of those email requests are forwarded to me for follow up, so it was not at all unusual for me to receive a request last August from a woman asking if we could possibly take in a declawed male stray, who had recently appeared in her neighborhood. Her email indicated that the kitty was currently living on her patio and she couldn't take him in, since she already had a cat. Since our president, Barb Slade, makes most of the decisions concerning intake of kitties, I forwarded the request to her to see if we could help.
After speaking with one of our foster parents, who said she would be able to foster the kitty, Barb contacted the woman to let her know that we would be able to take the kitty into our program. She explained that we would first take him to a vet to be scanned for a microchip, to make sure he didn't already have a home and, if not, care for him until we could place him. She gave her the contact information for our foster parent and told her to make arrangements to deliver the kitty to her.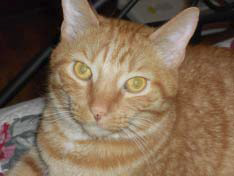 I didn't think anything more about it for a week or so, until the night of our Spaghetti Dinner fund raiser. While foster parent Katie and I were both slaving away in the kitchen, I asked her how the little guy was doing. She told me, as she held out her arms, that he had bitten her several times. I could see at a glance that these were not playful nips or love bites, but the real deal.
Biting is one of the behavior problems that all too frequently results from declawing, (and one of the reasons FosterCat maintains a strict "no declaw" policy). For obvious reasons, PetSmar t will not allow its adoption partners to display cats who bite in their adoption centers, and few people are willing to adopt them for the same reasons. If the behavior continued, Mr. Simon, as Katie had dubbed the handsome long hired orange tabby, would have to be returned to the woman who brought him to us.
Katie asked if she could work with Mr. Simon to see if he would calm down with a little more time to adjust to his new living arrangements, but unfor tunately, the biting continued. When Barb contacted his sponsor to let her know about the problem, it became clear that she had been aware of his behavior problem from the start, but had neglected to tell us. In fact, she reacted in a way that led us to suspect that she might have been the cat 's owner, looking to unload a problem that she herself had created by having the cat declawed.
Read More in FosterCat's Latest Newsletter
---
Attention Cat Lovers in the South Hills Area
FosterCat, Inc. is seeking responsible, cat loving caregivers to provide temporary love and care for homeless cats until permanent homes are found. FosterCat, Inc. is a local 501 (c)(3) non-profit organization. Contact FosterCat, Inc. at 412-481-9144 or click here to learn more about becoming a FosterCat foster parent and to submit a foster application.
---
Visit FosterCat's Adoptables at these places:
Come see some of our cats at the Cranberry, Monroeville, Northway Mall and West Mifflin PetSmart Locations!
---
Animal Abuse Hotline for Pennsylvania
The Pennsylvania Society for the Prevention of Cruelty to Animals has established a statewide toll-free hotline for reporting cases of animal abuse. Concerned citizens observing incidents of abuse may contact the Society at (866) 601-SPCA.
---
Our Mission
The mission of FosterCat Inc. is to develop and sustain an organization to provide temporary foster care for cats and kittens in private homes until permanent homes can be found.