Why FosterCat?
Foster Cat, Inc. is all about saving lives. It's as simple as that. We are an all-volunteer non-profit organization dedicated to the proposition that all cats and kittens deserve safe, loving, permanent homes.


Our foster parents provide temporary care for cats and kittens in their homes until they can be placed for adoption. Their compassion provides the second chance that so many stray, abandoned or homeless kitties need, and the satisfaction of knowing that they have helped save the lives of these helpless animals.


FosterCat provides training and support, medications, food and litter as needed, and absorbs all veterinary expenses associated with the care of our kitties. If you love kitties and would like to be a part of our lifesaving team, consider opening your heart and home to cats or kittens in need. We promise you won't regret it! If you can't foster, you can still help save lives as a volunteer or supporting member. Click on "How You Can Help", above, for more information.
---
A Tale of Two Kitties
I don't know if kids are actually required to read in school these days (I understand they aren't required to learn to write in cursive anymore, so who knows), but back in the olden days when I was in school, there were certain "classics" that we were required to read each year in our English classes. One that I especially enjoyed reading was Charles Dickens' A Tale of Two Cities, a novel set in the times of the French Revolution.
The first chapter of the book began with the now famous words: "It was the best of times, it was the worst of times...it was the spring of hope, it was the winter of despair." I can't think of a more apt description of the conditions that prevailed in the lives of two young adult kitties who came to FosterCat in early 2014.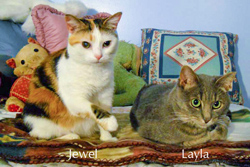 Jewel and Layla had much in common and nothing in common. They came from two entirely different, but equally horrific hoarding situations. They were not related, they didn't look alike, or have similar personalities, but both were sickly, flea and parasite ridden and dangerously malnourished. Layla weighed only 3 pounds and one vet recommended she be euthanized. Both ended up in the loving care of foster parent Kim.
Both kitties needed lots of TLC and time to regain health and strength. Kim provided both in abundance. Jewel recovered in Kim's home, while Layla convalesced in the foster care facility in her husband's warehouse, where she got lots of attention and plenty of nourishing food in small amounts throughout the day. When she was strong enough, Kim brought her home and was happy to see that she and Jewel bonded almost immediately, a happy event, since Jewel had not bonded with any of her other kitties.
Through the ensuing months, both Jewel and Layla spent time in various PetSmart Adoption Centers, but were not adopted. Then in November we learned that Denise, one of our volunteers and a long time cat lover, was looking to adopt. She had lost her beloved Prince several years ago and his sister Princess in May, but was now ready to welcome some new felines into her family and wanted to adopt two kitties who would get along well together.
Kim arranged to take Jewel and Layla to meet Denise and she knew from day one that these two precious girls would be part of her family for life. "Part of my heart will always belong to Prince and Princess," Denise wrote to her friends that first day, when she sent them a photo of her new house mates, "but Layla and Jewel have already stolen a piece too." Later, when the girls were settling in and making themselves comfortable in their new domain, she wrote to update us on their progress: "Thank God there are organizations like FosterCat. Thanks to you, I have fallen in love again with two sweet kitties. They are having fun exploring their new home and playing with their toys and working out who will be the boss. I told them I could settle it if they would let ME be the boss, but I know better. I will be number three in this household, and that is fine with me."
For Jewel and Layla, 2014 began in "the worst of times... the winter of despair", and ended in "the best of times... the spring of hope." We are so glad that FosterCat was able to help them along in that happy journey.
---
2015 Membership Drive Ties All Time Record
Yes, friends and supporters, you've done it again. Thanks to your loyalty and generosity, our 2015 Membership Campaign raised $3900.00, just over $200.00 shy of our all time record of $4130.00 last year.
We are truly grateful that so many fellow cat lovers share our concern for the welfare of homeless cats and kittens and are willing to express that concern with their financial resources. We send our sincere thanks to all of you who became members or renewed your memberships to help us keep on saving lives, one cat at a time.
---
Help Kitties While You Shop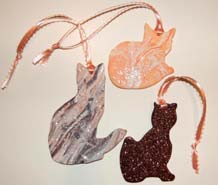 If you're still working on your holiday shopping list, please consider purchasing hand-crafted jewelry or holiday ornaments from Catmint Creations, LLC, owned and operated by FosterCat volunteer Norma Clouse. Norma formed the company in 2012 to support local animal rescue and welfare groups in the Pittsburgh area, donating 25% of gross sales to agencies chosen by purchasers.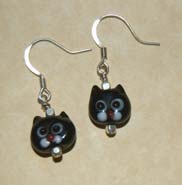 Orders can be placed through the company's website at www.etsy.com/shop/CatmintCreations. A wide variety of items are available, in addition to those pictured here, including a lovely wall quilt featuring red lilies. The entire purchase price of $150 for this item will be directed to FosterCat, Inc. Purchasers of other items may direct the donation of partial sale proceeds to FosterCat in the Message field at checkout. Norma is offering a 10% discount on all purchases (other than the quilt) designating FosterCat as the recipient organization from now through December 31. Simply enter FosterCat in the coupon code field at check out to receive the discount.
Thank you, Norma, for helping us continue to help the kitties.
---
New Rescue Magazine To Support FosterCat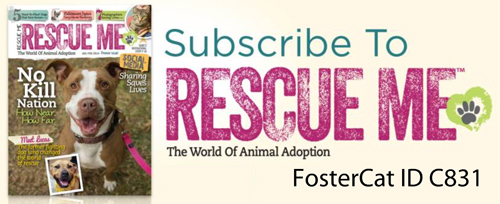 We have registered FosterCat as a charity for the new magazine "Rescue Me." Kellie Gormly, one of our volunteers, who is a journalist, will have a column in every issue!
It does not cost FC anything to register and if you are interested in subscribing, please reference FosterCat and the Rescue ID number for FosterCat C831. FosterCat will receive $19.95 for each $29.95 subscription fee received.
You can register online at www.readysetrescue.com or call 800-738-2665.
Please encourage friends and relatives to subscribe and remember to use our FosterCat ID C831 on all subscription orders!
---
Attention Cat Lovers in the South Hills Area
FosterCat, Inc. is seeking responsible, cat loving caregivers to provide temporary love and care for homeless cats until permanent homes are found. FosterCat, Inc. is a local 501 (c)(3) non-profit organization. Contact FosterCat, Inc. at 412-481-9144 or click here to learn more about becoming a FosterCat foster parent and to submit a foster application.
---
Visit FosterCat's Adoptables at these places:
Come see some of our cats at the Cranberry, Monroeville, Northway Mall and Pleasant Hills PetSmart Locations!
---
Animal Abuse Hotline for Pennsylvania
The Pennsylvania Society for the Prevention of Cruelty to Animals has established a statewide toll-free hotline for reporting cases of animal abuse. Concerned citizens observing incidents of abuse may contact the Society at (866) 601-SPCA.
---
Our Mission
The mission of FosterCat Inc. is to develop and sustain an organization to provide temporary foster care for cats and kittens in private homes until permanent homes can be found.