Why FosterCat?
Foster Cat, Inc. is all about saving lives. It's as simple as that. We are an all-volunteer non-profit organization dedicated to the proposition that all cats and kittens deserve safe, loving, permanent homes.


Our foster parents provide temporary care for cats and kittens in their homes until they can be placed for adoption. Their compassion provides the second chance that so many stray, abandoned or homeless kitties need, and the satisfaction of knowing that they have helped save the lives of these helpless animals.


FosterCat provides training and support, medications, food and litter as needed, and absorbs all veterinary expenses associated with the care of our kitties. If you love kitties and would like to be a part of our lifesaving team, consider opening your heart and home to cats or kittens in need. We promise you won't regret it! If you can't foster, you can still help save lives as a volunteer or supporting member. Click on "How You Can Help", above, for more information.
---
It Had to Be You!
This is the story of a man and a cat. The man and the cat had lived their lives in total ignorance of each others' existence until their paths crossed at the South Hills PetSmart last spring. That's when their eyes met; that's when the spark ignited; that's when their story began.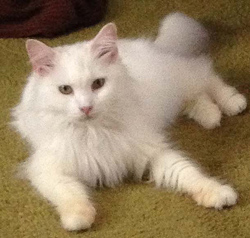 The cat's name is Allie (formerly known as Eirwen). Allie had endured a lifetime of neglect in a horrendous hoarding situation when the Homeless Cat Management Team rescued her and asked if FosterCat could display her for adoption in one of our cages at PetSmart. Allie was estimated to be about 10 years old, so we didn't have high hopes that she would be adopted, but felt she deserved a chance after all she had been through.
The man's name is Ed. Ed and his wife, Dianne, are lifelong cat lovers who were currently sharing their home with two male feline companions: Lucky, who had been with them for 17 years and Bootsie, who had been part of the family for 5 years.
One fine day last April, Ed went to the PetSmart to buy cat food. Ed had no intention of adopting another cat, but, for no reason whatsoever (as Dianne put it) he visited the Adoption Center just to look at the cats. As he surveyed the cats, which he did not intend to adopt, he spotted a small, dirtywhite cat staring out of her cage with sad green eyes. He tapped on the glass to acknowledge her and was rewarded with a meow and an outstretched paw. He left hoping that someone would adopt the sweet little cat.
A few days later, Ed's curiosity got the better of him and he went back to see if the little cat had been adopted. When he saw that she was still there, he asked one of the PetSmart employees about her and was told that she was a very shy 10 year old cat, who had come from a hoarding situation and that she didn't like to be held or snuggled. To Ed's surprise, however, when he asked to hold her, the little cat responded to him immediately. Ed watched the little feline's eyes following him as he left the Adoption Center. The spark had been kindled That night Ed told Dianne about his connection with the kitty.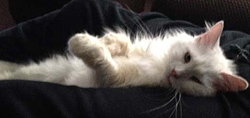 On his third visit to the store, Ed took Dianne with him. He went directly to the little cat's cage and told Dianne that they "needed" to give this little kitty a home. When she saw the love in her husband's eyes, she agreed without hesitation. The next day Allie was in her new home, getting to know her new family and learning for the first time in her life what it meant to be loved.
When I called a week or so later to see how Allie was doing, Dianne told me that she was settling in well. The vet had prescribed an antibiotic for an infected tooth and discovered that some teeth were missing, had cleaned her ears, and pronounced her to be otherwise in good health. Dianne said that she was eating well, which was good, because "she needed to put on a pound or two". She was enjoying lap sitting and belly rubs (on her terms, of course) and Lucky and Bootsie, though still a little standoffish, were getting to know their new sister and seemed to be accepting this newest member of the family.
Last month, when I told Dianne that I wanted to feature Allie in an upcoming newsletter, she was happy to supply some recent photos and bring me up to date on Allie's assimilation: "You would hardly know she is the same cat. Thanks to her grooming efforts and a healthier diet, her coat is now sleek and white and her green eyes glisten. She guards her bowl, always knows when its time to eat and she never turns down any kind of food, despite her missing teeth. She loves to play and will even fetch. Yes, I said fetch. Ed throws a little toy and she brings it right back to him. She follows us from room to room, loves to give nose kisses and talks to us in her monotone meow."
Sadly, not long after Allie joined the family, her 17 year old brother, Lucky, passed away. "Allie seemed to sense that he was sick and would lie next to him, to offer comfort to him in his time of need. We have sometimes wondered if she had offered the same comfort to some of the other kitties who had suffered with her in her life before she came to us."
Dianne hastened to add that Allie had also been a comfort to Ed and her as they mourned the loss of their long-time companion. "We have two cats now. We call them our Salt and Pepper Duo... one furry white cat and one furry black cat bringing love and joy to our home."
I can't say that I am totally convinced that there really is such a thing as "love at first sight" or that we all have a soul mate out there somewhere that we just have to keep looking for until we find him or her. But one thing is for sure: when Ed met Allie something happened. Something clicked. A connection was made. And so it seems to happen, at least from time to time, where matters of the heart are concerned. We are so glad that this was one of those times.
---
Thank you, Thank you, Thank you!
Some things just can't be said too often. That's how we feel about telling all of our friends and supporters how grateful we are for their generous response to our 2016 Membership Drive campaign. Thanks to all of you, we raised $3780.00 to help defray the expense of providing care for the homeless cats and kittens in our charge.
I hope each one of you who became a member or renewed your membership this year will accept our thanks and share our joy in having been a part of bringing about happy endings like Timmy's for so many other homeless cats and kittens.
---
New Rescue Magazine To Support FosterCat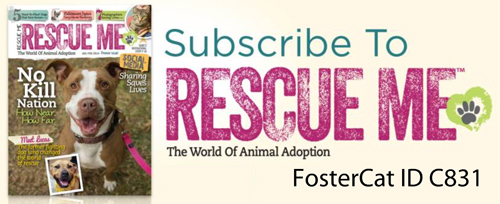 We have registered FosterCat as a charity for the new magazine "Rescue Me." Kellie Gormly, one of our volunteers, who is a journalist, will have a column in every issue!
It does not cost FC anything to register and if you are interested in subscribing, please reference FosterCat and the Rescue ID number for FosterCat C831. FosterCat will receive $19.95 for each $29.95 subscription fee received.
You can register online at www.readysetrescue.com or call 800-738-2665.
Please encourage friends and relatives to subscribe and remember to use our FosterCat ID C831 on all subscription orders!
---
Attention Cat Lovers in the South Hills Area
FosterCat, Inc. is seeking responsible, cat loving caregivers to provide temporary love and care for homeless cats until permanent homes are found. FosterCat, Inc. is a local 501 (c)(3) non-profit organization. Contact FosterCat, Inc. at 412-481-9144 or click here to learn more about becoming a FosterCat foster parent and to submit a foster application.
---
Visit FosterCat's Adoptables at these places:
Come see some of our cats at the Cranberry, Monroeville, Northway Mall and Pleasant Hills PetSmart Locations!
---
Animal Abuse Hotline for Pennsylvania
The Pennsylvania Society for the Prevention of Cruelty to Animals has established a statewide toll-free hotline for reporting cases of animal abuse. Concerned citizens observing incidents of abuse may contact the Society at (866) 601-SPCA.
---
Our Mission
The mission of FosterCat Inc. is to develop and sustain an organization to provide temporary foster care for cats and kittens in private homes until permanent homes can be found.